Squashlands realises that sometimes you just want to relax. The therapeutic benefits of spas, saunas and steam rooms have been realised for thousands of years by many cultures. After work or a hard workout session; our Spa, Sauna, and Steam Room is the perfect way to relax your body! They provide a way to relieve stress, headaches, high blood pressure and chronic pains.
Spa
The Spa varies in temperature between 34 and 39 degrees. You can sit and relax in the warm water and enjoy all the health benefits that come with it.
Sauna
The Sauna is a dry heat room that varies in temperature from 60 and 90 degrees increasing your body's core temperature, and increasing sweating.
Steam Room
The Steam Room is set at 40 degrees with a relative humidity of 100%. Similar to the Sauna however filled with moist heat.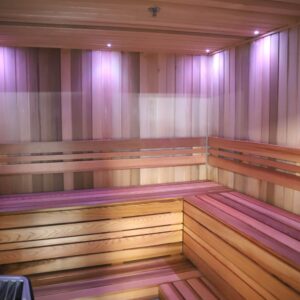 Use of oils (including tea tree, and eucalyptus), and creams is prohibited at all times
Spa, Sauna, & Steam room are regularly inspected by Squashlands Staff
You must wear approved swimwear
A towel or robe must be used at all times in the sauna